MaxBounty review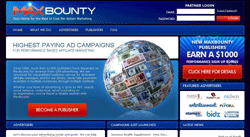 Overview
This review is updated according to new features. Screenshoot above shows MaxBounty website, Nov 2013.
MaxBounty is recommended for beginners in affiliate programs due to simple affiliate interface and many simple CPA offers (ZIP, email, one pages info). Some international offers, targeted to specific Countries are available. Some trials and sale offers too.
Statistic
Mostly realtime reports for leads/sales, some corrections are possible later. Reports are not that detailed, but using tracking ID in affiliate links, it is possible to track your promotions better. However, EPC (earned per click) displayed near offers (offers list), at least shows that offer is converting or not. Invaluable info what you will not find on every CPA affiliate networks.
One feature worth to mention is MaxBounty API, instructions (php examples included) are in MS Word doc format, and can be downloaded from affiliate interface. Just for reminder, using API, you can download statistics and list of offers without need to use Web interface (login, etc).
And the best tracking feature is the Live Callbacks tracking. Details you can read there, but important is, when using this feature, you can know when and how lead is generated. In another words: If lead /sale is recorded, you will know that at the same moment.
Tracking problems
None known.
Adware problems
Since contextual type od traffic is allowed for some offers, this could be (mis)used to overwrite cookies of another affiliates for those offers. Adware is not generating any traffic, it is parasite, and on many affiliate networks it is forbidden to use this kind of promotion (PPV - pay per view).
Expired offers
There was an internal email mailbox, where you were getting messages about expired offers, and paying rate changes. Now, those news are displaying on the top of main page (affiliate interface).
Expired offers are redirected to the similar offer, or to default offer (mostly international traffic) which is the pay per sale offer (surveys site - clickbank), what is not looking like the best solution, but that depends of profile of your visitors, and kind of offers you are promoting. For untargeted traffic, general audience, lead offer could perform better than that sale offer.
Restrictions - offers
For small number of offers you need to apply for approval. Some offers are for email or on website promotion only. Country filter (screen) is on the network level, "wrong" GEO (usually international) traffic is redirected to above mentioned surveys website. Some offers are on monthly cap, check for that when you are choosing offers.
Due to GeoTargeting, if you are outside USA, it could happen that you even can't check offer's landing page. In that case, use some proxy with USA IP to test affiliate link, to avoid to be redirected to default offer (worldproxy202 toolbar could be used).
Payment
Payment is consolidated, what means, one check for earnings from all offers. Payment is by check, US$, minimum sum is $25 (if minimum is not met, sum is added to next month earnings). Check mailed on 15th for the previous month earnings. Payment is also available in some other currencies. See website for details. In a few years with them (from 2004), not even one problem with late or missing payments.
SignUp guide
Nothing specific, like on any other affiliate network. Web site with acceptable content, valid email account and mailing address... International affiliates are accepted, but it is strongly recommended that your Web site content is on English, and targeted to USA&CANADA visitors. Some UK and AU offers are available too for those markets. Some offers now targeting some EUROPE Countries and specific languages. Something for everyone.
More information about MaxBounty and signup link » here
---